Aluminum Wiring
Common information to help you prepare for your home inspection.

---
A Brief History of Aluminum Wiring
Based on our research and inspection experience, the use of aluminum wire is not a reason to avoid buying a house. However, there are some issues regarding aluminum wire that homeowners should be aware of. Builders began using aluminum wire in 1965 when the price of copper wire sky-rocketed. From 1965 through 1980 a considerable number of houses and condominiums were wired with aluminum and although it is no longer used for branch circuits, aluminum wire is actually still code permitted in most areas of the United States.
Concerns are restricted to single conductor aluminum wire used for branch circuits, not the stranded heavy gauge aluminum cable still used for service entrance and larger appliances. While most studies show that aluminum wire is more susceptible to electrical problems than copper wire, no study or report has demonstrated conclusively that there is enough of a difference to indicate that aluminum wire should not be used. However, single conductor aluminum wiring does have more of a tendency for loose connections than copper. It should be noted that electrical problems for the most part occurred in the mobile homes and RV's because receptacles and switches being used in these manufacturing industries had steel screws. When undetected, this condition sometimes caused arcing and overheating which in turn caused fires. In order to correct the problem, a change in code regarding installation methods for aluminum wiring occurred in 1973, resulting in the wiring before and after 1973 being labeled "old" and "new" technology respectively.
New Technology
Homes constructed with aluminum wire since 1973 are considered "new technology" as they were required to comply to the new electrical code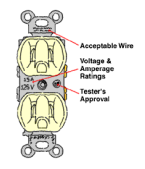 which required UL listed circuit breakers, receptacles, and switches with aluminum compatibility labeling; CO-ALR or CU-AL (receptacles and switches are stamped where illustration says "Acceptable Wire"). These devices do not have steel connection screws and screw heads are larger to keep the connections tighter. If a receptacle, switch or breaker ever needs to be replaced, make sure the replacement item is labeled for use with aluminum wire. Another less common correction uses small pieces of copper wire "pigtailed" between the aluminum supply wire and an unlabeled electrical device. Done properly, this method works well, but it has gone out of favor because of the expensive equipment required to crimp the wires together properly. Note- Whether a house has "new or old technology", common sense also dictates that you should never ignore or take lightly any sign of an electrical problem.
Old Technology
Unless upgraded later, homes constructed and wired with aluminum between 1965 and 1973, have "old technology" wiring. Even under old technology conditions, only a minuscule percentage of aluminum connections have actually caused fires in homes and buildings. Again, the majority of documented problems were in the mobile home and RV industry. It is easy to reduce potential for electrical failure by paying attention to the following:
Warm cover plates
Arcing at receptacles or switches
Outlets or circuits that do not work
Excessive light flickering or dimming
Burned wiring, oxidation or corrosion on electrical connections
When replacing receptacles and switches use CO-ALR devices
Summary
New technology aluminum wiring should perform satisfactorily without specific maintenance attention. Old technology aluminum wiring that was installed by an electrician usually performs satisfactorily. There are no code requirements to make improvements and insurance companies currently do not refuse insurance if a home has aluminum wire. NOTE- Homeowners should look for the trouble signs listed above and correct any indication of problems immediately, whether a home has aluminum or copper wire.
---
Ready to Schedule Your Inspection?
Our Home Inspection professionals are ready to help you. Choose your inspector on the next page and choose an available time slot from their calendar to schedule your appointment online.